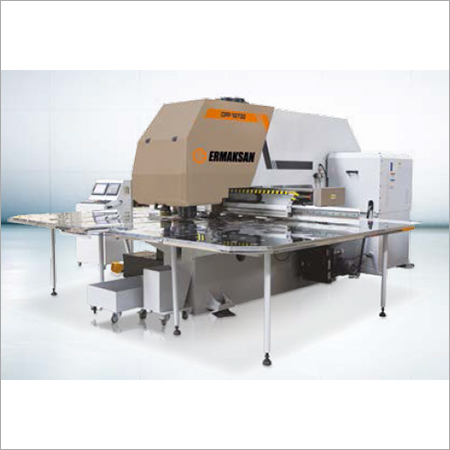 Product Description
Combined Plasma Punch Press
ERMAKSAN's CPP Combined Plasma Punch Press Series boasts of a perfect combination of expertise in manufacturing of sheet metal machines and quality assurance. As a manufacturer, supplier and exporter of this punch press, we are looking to strengthen our position in the international market. There is a perfect amalgamation of hydraulic punching, durable frame and HiFocus sensitive plasma cutting in this Combined Plasma Punch Press. This equipment has a strong and sturdy mono-block rigid C type body. It is made by using welded stress relieved steel which is known for having high acceleration axes. This design features allows the loading of sheet from 3 sides, which in turn permits the operator to visually manage the entire operation.
Customer Benefits / Advantages of Combined Plasma Punch Press
Perfect accumulation of punch and plasma technology
Parts can be produced immediately after the installation since its menu guide is very simple and user friendly
Up to 6 mm can be simply punched
Production time is lessened
Cutting precision is quite high
Easy training to the layman operator
Two in one operation
Combined Plasma Punch Press is perfect for quick and simple completion of all the job of plasma cutting and hydraulic punch press. In this machine, there is no need to remove the workpiece as it is automatically carried to the other bench. This is very helpful in decreasing the production time.
Power: 30Ton
Cutting head type: Fixed head
Max. sheet size with out repositioning: 1270x2000mm
Plasma source: 100A
Number of tools: 6/8